When we set out our intentions to formulate UF Iron + Fallout Remover several years ago now, we were fully aware the complexities of launching this kind of product presented. And, we didn't want to launch 'just another fallout remover', we wanted to develop a product that was good enough for our studio and something we could proudly put the 'UF' logo on for car detailing enthusiasts and professionals to enjoy.
After a couple of years undertaking extensive in-house testing, we signed off the finished article and were excited to finally get it on the shelf, making it available for like-minded detailing enthusiasts to put to good use. To say it has been popular is an understatement – we've been pretty blown away by how well received the product has been and it now sits pride and place among our huge detailing range as one of our best-sellers on the website.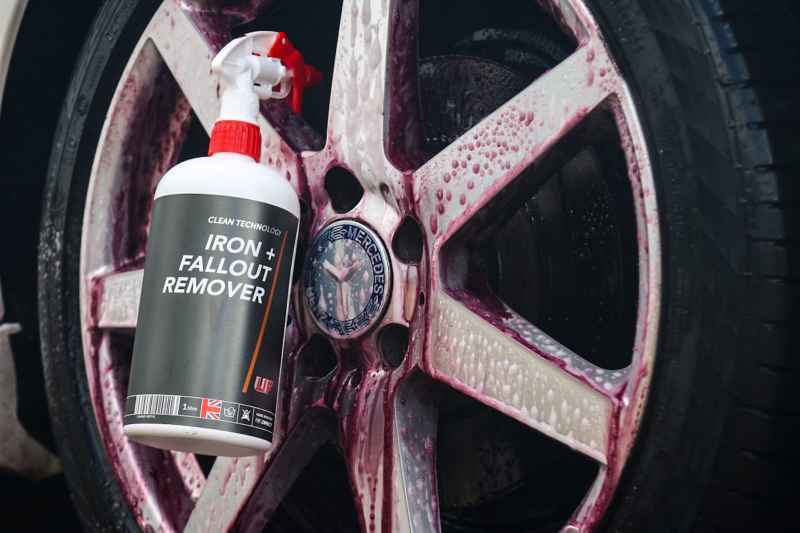 So what is all the fuss about when it comes to UF's Iron + Fallout Remover? Well, you're about to find out!
In Joe Huntley's latest detailing video he puts the spotlight on UF Iron + Fallout Remover and demonstrates just why the product really is one of the most versatile you can get your hands on, not to mention providing a real key ingredient in any budding car care enthusiasts weekly routine.
Simply hit the play button on the video below and sit back and enjoy the product doing what it does best. We've also singled out some accessories that go hand in hand with UF Iron Fallout Remover to make your process all the more effective, hit the links below to head to our shop.
Ultimate Finish Iron + Fallout Remover | Product Spotlight
UF Iron Fallout Remover £10.95
UF Iron + Fallout Remover has been developed and tested at UF Studio, by the in-house detailing team over a period of more than two years! So now UF can deliver the very best in Clean Technology directly to car care enthusiasts at home!
When brakes are applied, pads shred, releasing tiny hot and sharp-edged particles into the air. These particles bond with the first substrate they land on and as they oxidise, they swell. Left in situ, these particles can cause permanent pitting in the wheel or paint lacquer. Removing these at regular intervals is therefore essential to preserve the integrity of the lacquer and the appearance of the car.
Iron + Fallout Remover is a spray-on product containing an active ingredient that reacts with ferrous contamination, shrinking the particles and forcing them to break their bond with the underlying substrate. In addition, Iron + Fallout Remover is highly effective on environmental contamination, such as bird droppings, bug squash and tree sap. Simply spray on, allow to dwell and then rinse – no need to rub a mitt vigorously over the paintwork and potentially cause scratches.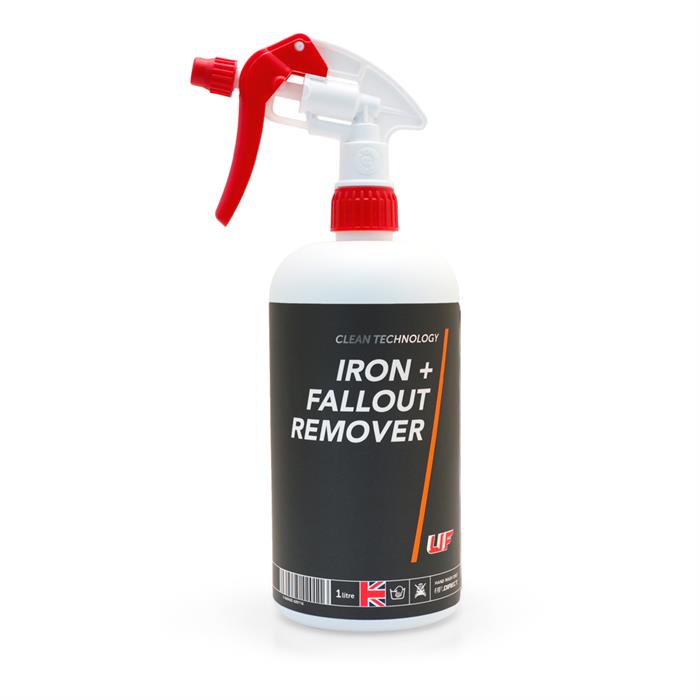 Quickly & safely removes brake dust, bird droppings, bug remains, etc
Designed & tested by professional detailers
pH-balanced formulation
Will not remove existing wax or sealant layers
Non-contact, spray-on solution minimises the chances of scratching paintwork
Safe for use on all painted or lacquered surfaces including wheels & paintwork
Fast acting solution saves time & preserves paintwork finish
Colour change function demonstrates product is working
Thicker consistency for extra cling time
Dodo Juice Supernatural Merino Wheel Mitt £7.95
Delicate wheel finishes are easy to scratch, particularly during the wash process. This wheel mitt, made from soft Merino wool fits easily over your fingers, giving you better grip of the mitt and allowing you to get it into the hard to reach areas of the spokes.
After each use, it's important to rinse the wheel mitt with cool, clear water and allow to air dry naturally, avoid machine drying!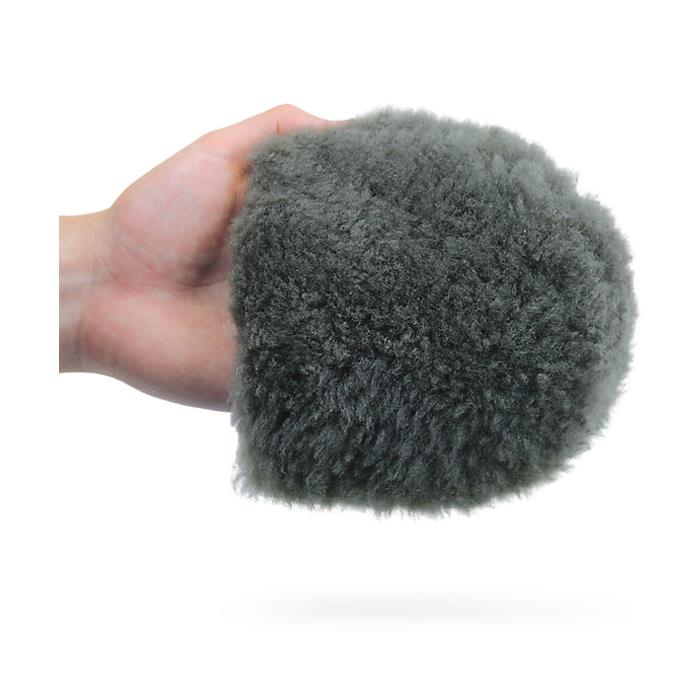 Fits snugly on to hand to enable easier cleaning of wheels
100% Natural wool
Reach in to intricate areas
Ideal for cleaning difficult spokes, gently
Meguiar's Supreme Wheel Brush From £16.95
The Meguiar's Supreme Wheel Brush consists of a thick microfibre head which gives excellent cleaning ability whilst also being completely safe on all wheel types and finishes. The brush is long enough to reach behind spokes and into wheel drums, perfect for a show car finish. Contains no wire or other metal parts which will often inflict damage.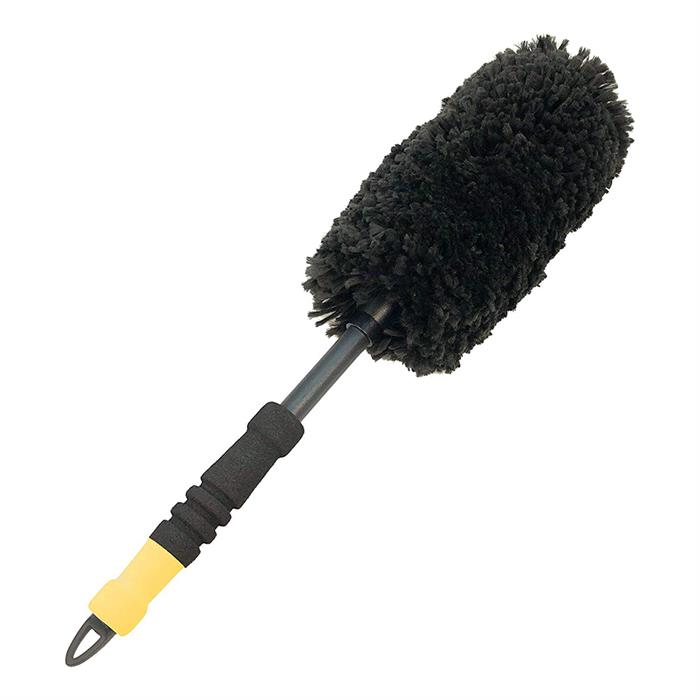 Thick pile microfibre enables effective and safe cleaning for wheels
Microfibre heads extra absorbent
Access to all areas of wheels is made simple
Safe on all wheel finishes and surfaces
Contains no metal parts
UF Ultimate Spray Sealant £18.95
UF Ultimate Spray Sealant has been extensively developed and tested by the in-house team and joins our expanding 'Clean Technology' range of products.
Easy to apply, Ultimate Spray Sealant is a simple, spray-on solution for home users or professionals looking to coat a vehicle quickly and protect it from the likes of harsh weather, wash chemicals or UV rays.
Ultimate Spray Sealant is a highly effective stand-alone sealant, but will also work well when applied to surfaces that are wearing any pre-existing sealants or waxes. Designed to be used once the vehicle has been washed, the product will impart a hydrophobic layer, forming a chemical bond to rejuvenate, refresh and increase gloss levels.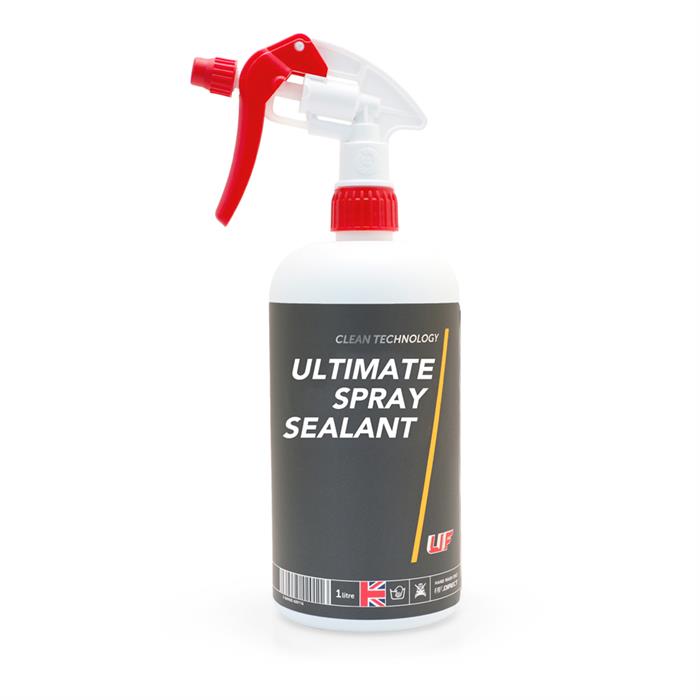 Easy to apply, spray on & rinse Off
Protects against UV rays, wash chemicals & weathering
Durability, 6-9 months
Can be used as a stand-alone product
Compatible with waxes & sealants
Use neat for stand-alone protection or dilute 1:10 for top up/maintenance.
Visit Ultimate Finish for the best car care and detailing products from around the globe and bring your pride and joy back to life!
Have a question on any of our products? Email sales@theultimatefinish.co.uk or call 01474 360 360.
Our team is on hand, Monday to Friday, 8am-5pm.