The increase in popularity of machine polishing has given rise to rapid advances in the formulation of compounds and polishes to facilitate the process. Menzerna has long been the choice of professional detailers, but with the increased sophistication of the consumer, Menzerna is gaining a foothold with the car care enthusiast too.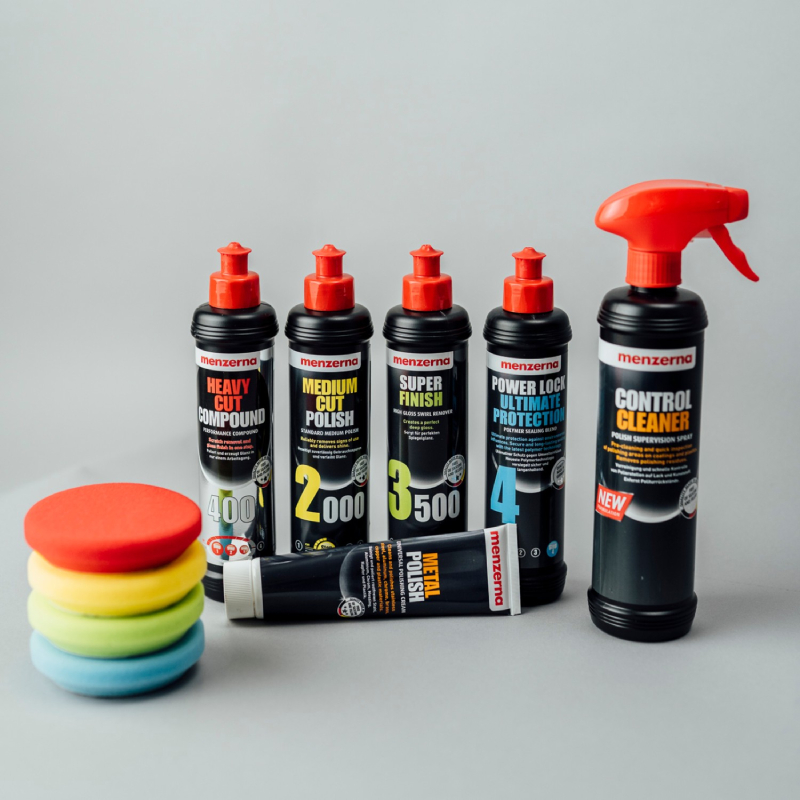 Menzerna are well established in this field and have been creating surface polishing products for 125 years. Manufactured in Germany, products were initially formulated for the automotive manufacturing industry where speed is of the essence. Time constraints on the production line necessitate fast and efficient elimination of imperfections and overspray with consideration to the cleanliness of the environment. Menzerna's goal was to improve the efficiency of the polishing process and the quality of the polishing results. As a result, they have formulated products that achieve results quickly and with minimal dust generation.
They've been so successful in their product design Menzerna is the supplier of choice to Rolls Royce, Bentley, BMW, VAG and Porsche. Recently Menzerna has completed an extensive overhaul of their product portfolio, streamlining the range, reformulating some products and rebranding the entire line. Some established products have been renamed to fit within the new format:
The livery is colour coded and numbered, designed to make the products easily identifiable by their process category. Their filler and silicone-free formulation make them popular with everyone, from car manufacturers, professional detailers and car body and paint shops to the everyday car care enthusiast.
Menzerna Product Categories
The Menzerna product line up is broken down into categories, defined by their process: Cut – Red, Polish – Yellow, Finish – Green and Protect – Blue.
In addition to this, each product is labelled with numbers. The first number, written in large font, indicates whether the product belongs to the Cut (1), Polish (2), Finish (3) or Protect (4) category. The subsequent numbers indicate the level of cut in comparison with other products in the same category. The smaller the number, the more abrasive the product. Thus, a label with a large '1' in red writing indicates Category 1 – Cutting. 1000 is a heavier cut than 1100.

The polishing stage (yellow label, numbered 2) includes three grades of medium cut compound, the finest of which is 2500.

The refining stage (green label, numbered 3) has three grades of final finish polish ranging from 3000 to 3800 (finest).

There are three last step or protection products (blue label, numbered 4) and are simply identified by the product name.

Menzerna Product Function
Products are also assigned groupings by function:
A – Standard Products – suitable for all applications
B – Alternative Products – for non-standard applications including older paintwork
C – Special Products – perform multiple functions in one step or have a unique characteristic
D – Accessory Products – outside of the main processes but integral to them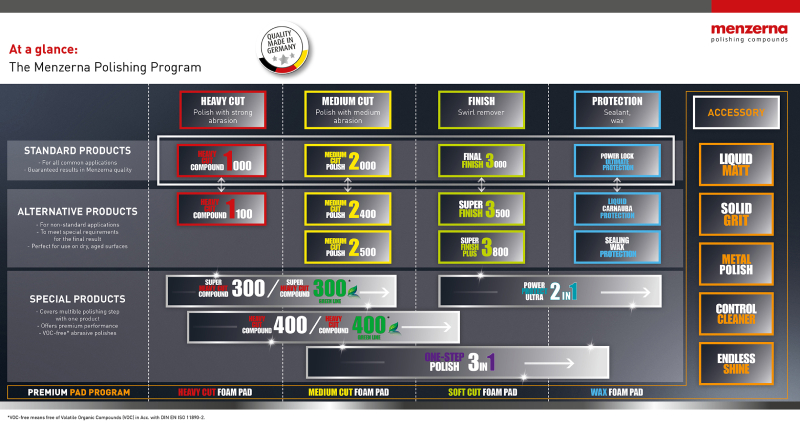 Special Products perform multiple steps in the machine polishing process. Their category is indicated by silver labels but adheres to the colour coding and numerical formula. As such, Super Heavy Cut 300 Compound is colour-coded red, for Cut and the 300 indicates a heavier level of cut than Heavy Cut 400 Compound. Their Special Product designation indicates both of these compounds perform two stages of the cutting process.
Accessory Products are just that – accessories. Some or all may be required, depending on the job at hand. Liquid Matt is designed to produce the same result as wet sanding. Control Cleaner removes polish residues and should be used between each stage of the compound, polish and protect process to support the visual inspection of the paintwork. Endless Shine is a quick detailing spray that can be used after a maintenance wash to boost existing sealant layers.
Below we have selected a product from each of the four categories, all of which provide an essential function in the machine polishing process!
Heavy Cut Compound 1000 From £8.50
Heavy Cut Compound 1000 is specifically designed to quickly eliminate sanding marks, buffer trails and random deep scratches (RDS). The lubricating oils allow for longer working times and produces minimal dust.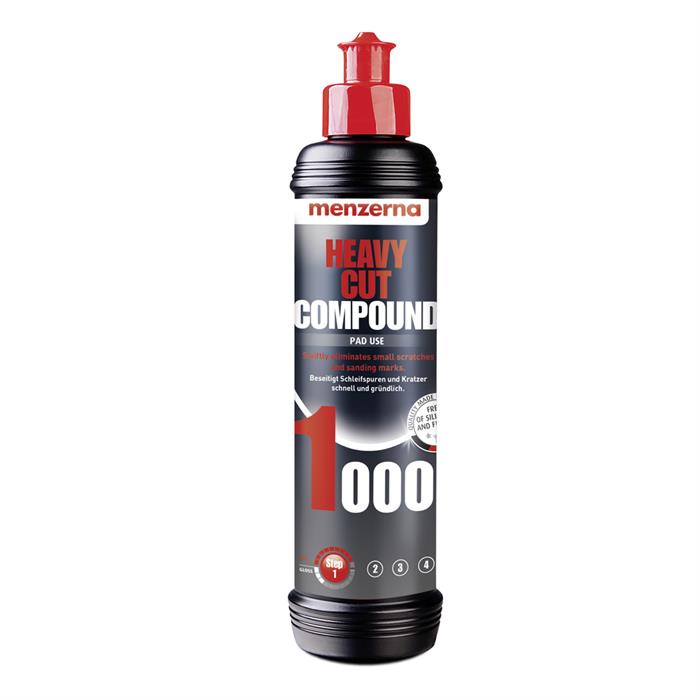 Abrasive particles remove overspray, sanding marks, scratches & buffer trails
Produces an even sanding effect
Use with hard compounding pad
Medium Cut Polish 2400 From £9.95
Older paintwork which has lost some of its natural oils can be difficult to correct without producing holograms and micro-marring. Medium Cut Polish 2400 contains lubricating oils to allow for comprehensive removal of even severe blemishes such as sanding marks, without leaving additional damage on the paintwork.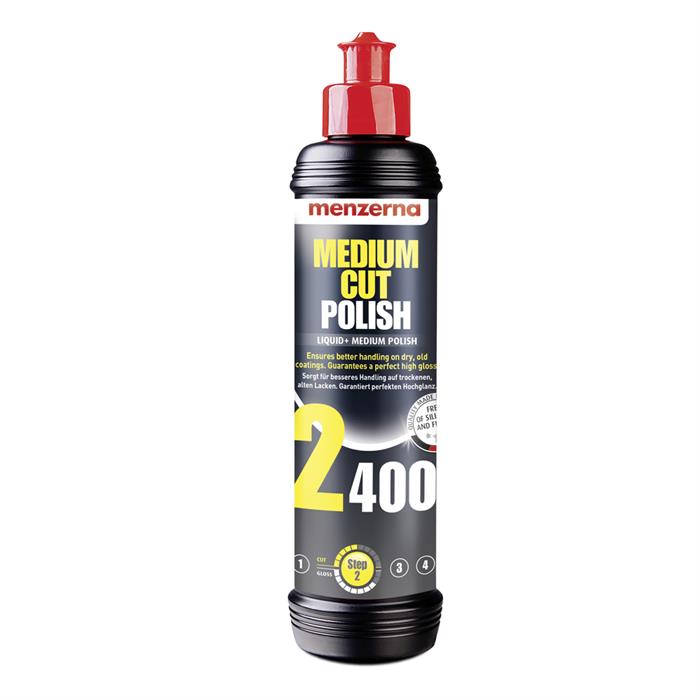 Contains delicate abrasive particles & lubricating oils
Can be worked for longer on older, dry & soft paintwork
Filler-free formulation produces minimal drop-back
Super Finish 3500 From £11.95
Many modern clearcoats have scratch-resistant finishes which can make minor imperfections tricky to correct.
Super Finish 3500 uses diminishing abrasives to make short work of light scratches, swirls and holograms on intermediate and scratch-resistant paintwork.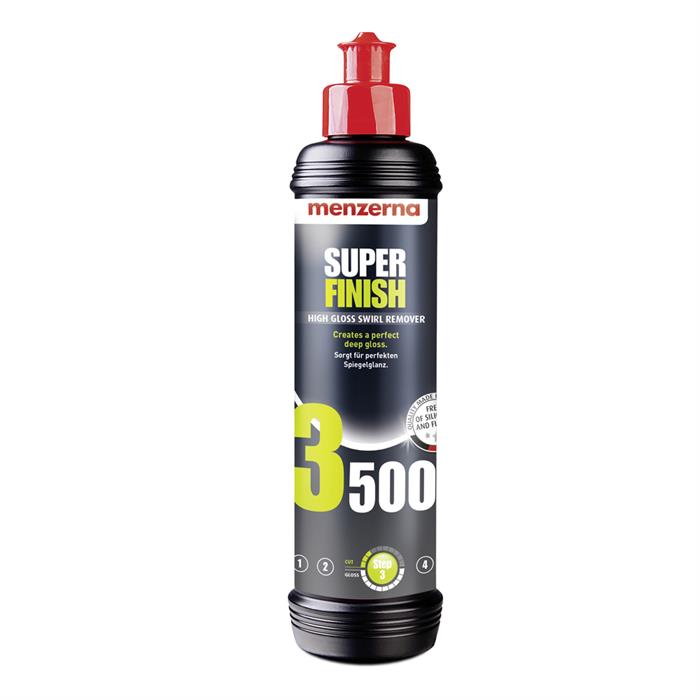 Diminishing abrasives remove minor imperfections & leave high gloss shine
Lubricants allow for longer working times, preventing micro-marring
Filler-free formulation ensures defects removed, not filled – minimal drop-back
Power Lock £12.95
Menzerna Power Lock is a polymer coating sealant suitable for all types of gloss automotive paint finishes. As well as imparting a high shine, Power Lock also protects against environmental fallout and has excellent water-beading properties.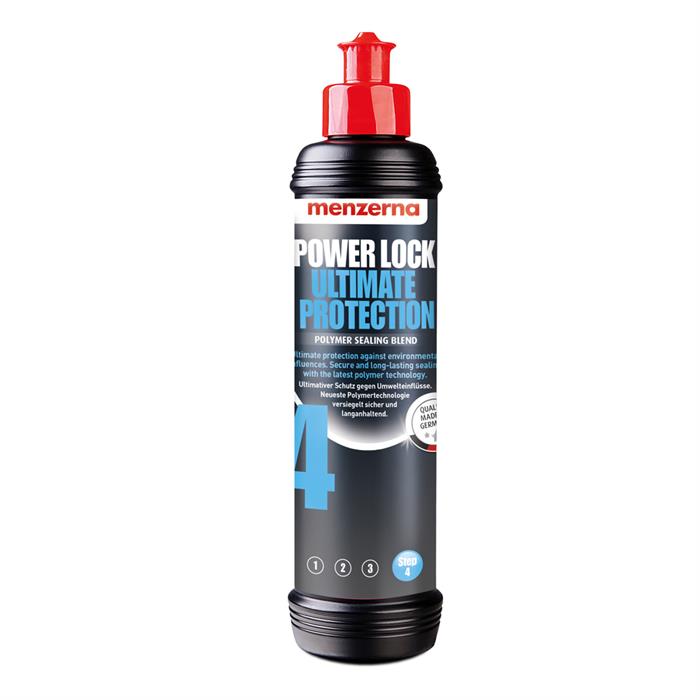 Durable protection
Repels environmental fallout
Imparts a brilliant shine
The full range of Menzerna products can be found here.
Visit Ultimate Finish for the best car care and detailing products from around the globe.
Have a question on any of our products? Email sales@theultimatefinish.co.uk or call 01474 360 360.
Our team is on hand, Monday to Friday, 8am-5pm.